Stellar Racing Stables


Due to the influence of his friends, and his father, Jim Cronk had always wanted to own a racehorse. In 1997, he finally got the chance when he accompanied trainers Paul Seefeldt and Hamilton Smith to the Keeneland September yearling sale.

"I was out there a week and they hadn't bought anything!" said Cronk. "I thought they were professional shoppers. I encouraged Ham to bid and he said 'I am going to bid on this one in the ring.' I said 'When your done go buy the horse right behind him.' " That horse, who went home with Cronk and Hamilton for $11,000, became Memory Tap, Cronk's first stakes winner. " I figured for $11,000 I can't go wrong," Cronk said.

Over $260,000 in earnings later Memory Tap has proven Cronk did not make a mistake. In 1999 the colt won Zwaanendale Stakes at Delaware Park. In his sixth start of 2000 he won Pimlico's Fire Plug Stakes by 3 1/2 lengths. In the meantime, Cronk said he and his colt have developed a following in Maryland. Jim estimated his cheering section was over 50 strong. "I have a large group of friends up in Laurel that are very attached to this horse" he said.

Jim Cronk lives in Annapolis, Maryland, with his wife Kitty, and sons Patrick and Shawn. The couple also have a home on their Linden Manor Farm near Cecilton, Maryland. Jim Cronk also owns Maryland Micro.com, which buys, assembles, and distributes computers and computer parts. One of the first clone computer companies, Stellar Computers, inspired the Stellar Racing Stable name. Stellar now has six horses in training with Smith and Seefelt.

Stellar Racing Stable has gone beyond merely racing. In 1999 Cronk sold three yearlings he had purchased as weanlings. This year he intends on selling eight yearlings purchased last year.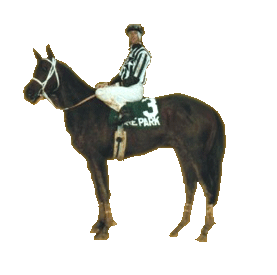 Click here for Map and Directions.